The Hancock-Henderson Quill, Inc.

---
River Cruising Is Good With "Liberty Jayne"
By Dessa Rodeffer, Quill Publisher/Owner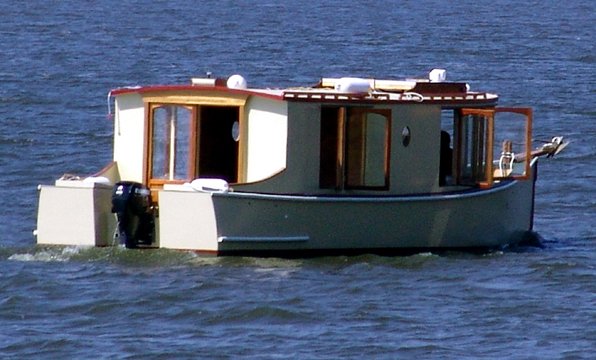 "Skip" Kelly of Oquawka, says he is "pretty well satisfied" with how his newly constructed houseboat-yacht is doing since he launched "Liberty Jayne" a week ago Saturday.
"The boat's still floating," he said after he had concern from a hole he had to drill for a bolt necessary for a lightning ground.
He also had to cut into the boat to install a 12"x12" box for a Bow Thruster which he said will help direct the front of the boat with a single motor.
"It's like a high power trolling motor," Kelly said. "Without it the wind would catch it."
"It surprised me how fuel efficient she was," Kelly said saying they have had her out every day now for nine days and have only used 9 to 10 gallons.
He only filled two of his four gas tanks to keep the boat light for its first voyage and it only used half a tank so far.
He installed an E-tech motor for good fuel efficiency at lower speeds.
"She can move 15-18 m.p.h. at top speeds," he said, "and I think we have been traveling about 10 m.p.h. watching the river markers."
Kelly was giving rides up and down the Oquawka riverfront to anyone who wanted to take one. He has traveled to Keithsburg, and to sandbars and is learning how to run and handle the boat and how he wants to use it.
"I am glad I did this," Kelly said. "I made sure it is legal and wired right inside and I am learning how I want to use it, and how I want to finish it off."
Kelly custom-made crank-out windows with mahogany wood to fit each opening of the boat. His plans for inside include using red cedar and white pine tongue and groove, green countertops, and maroon curtains, a bathroom with shower and sink.
He plans a state room with a custom made fluton bed that will be level with the windows to view the scenery without sitting up, and then drops down as a couch to sit on during the day. He will include a desk, and closet. His kitchen will include a pantry, stove, sink, storage, fold down dining table, and bookshelves, and he will eventually include a flatscreen TV.
All can run off his 4x5 solar panels which he said is strong enough to charge 4 golf cart batteries. It can run the refrigerator, TV, and lights for a couple days. He also has a battery charger.
Prior to Liberty Jayne's launch into the Mississippi River, "Skip" and his son and work associate BJ Kelly, and his daughter Shannon Miller christened the boat along with Skip's grandchildren, 6-year-old Owen and 10-month-old Liberty "Libby" Jayne Miller, which the boat was named for. "We poured grapejuice in an empty bottle of Riverboat Red Wine from Missouri," he said, " and broke it on the bow."
"Skip" is a U.S. veteran who served in the Navy in the sixties in the CB (Construction Battalion).
His first trip wasto Spain where he built naval housing. His second assignment was to Vietnam where he built huts, chow halls, and headquarters for the Marines, Air Force, and Navy. His last trip was to Vietnam with the U.S. aide program, "Hands Across the Sea" where they employed Vietnamese and taught them a trade of brick work and electrical work to help get them back on their feet.
"I learned a lot," Kelly said of his service to his country. "It is mainly about your attitude. I enjoyed the work I was doing"
Friday, "Skip" was taking a couple a ride who were visiting at a cabin where he had been working in town. Six were on board the Liberty Jayne, seated in captain chairs, and in make-do-furniture until the inside can be completed.
"I have 10 lifejackets, but there's room for more to ride if I had more jackets," he said.
At present, "Skip" is keeping his small yacht at Paul Olson's new harbor "Sum-R-Daze" until sometime in October when he says he will pull it back to "the barn" just south of the Sheriff's office.
Look him up and he'll give you a tour, and if you are lucky, he might even give you a ride up the Mississippi.
---