The Hancock-Henderson Quill, Inc.

---
Business Spotlight
by Holly Willdrick, Quill Reporter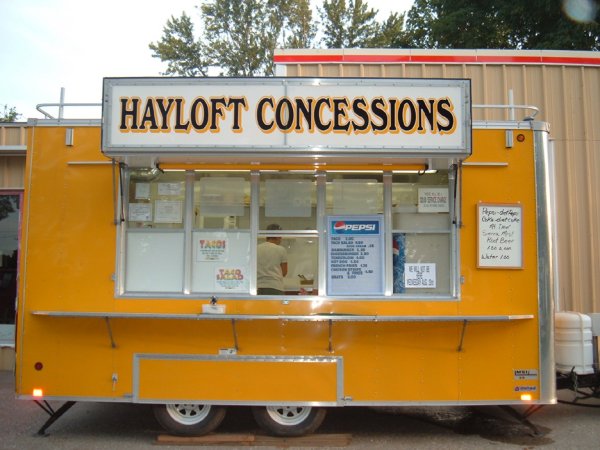 Hayloft Concessions
Gary Forquer and JoAnne Dill went in the restaurant business 25 years ago when they starting running the Hayloft Inn in Blandinsville.
After 23 years of running the restaurant they decided to sell the business. After about a year they were bored and decided to go into the concessions business. They felt that this would allow them a little more freedom then the restaurant business.
We would be able to do as little or as much as we wanted. Plus, they both loved working with the public and this would give them that chance again.
They travel to many special events in Ft. Madison, IA, Burlington, IA, Stronghurst, Rartian, Warsaw, La Harpe and Blandinsville.
They also set up in Blandinsville every Monday and Tuesday and in La Harpe on Wednesday. However, they will not be in LaHarpe on August 23.
Recently they have been to the Hancock County Fair and the Fred Gibb Car Show and have made plans to set up at the 'Olde Tyme Farm Show' in Stronghurst on August 26 and 27, at Argyle State Park during Labor Day weekend, and the Burlington Regional Air Show on September 16.
Their hottest item is their homemade soft shell tacos. They make their own shells and fill them with taco meat and all the fixins. They also offer breaded tenderloins, chicken strips, taco salads, fries, and other sandwiches.
Besides themselves they have two employees. Jessie is a school teacher so she helps during the summer and Desi works at Main Street Saloon during the day and for the Hayloft Concessions in the evening. Desi started working for them when she was 15 at the restaurant and has been with them since.
When they travel and need extra help JoAnne's son Mark will go along.
Gary has two children, Tammi and Amber, and JoAnne also has two children, Mike and Mark. They have been blessed with 8 grandchildren. When they are not busy traveling around they enjoy spending time on their farm that they bought 6 years ago.
La Harpe has been really good to us and we appreciate all the business. If you haven't gotten your homemade taco yet, they will be in La Harpe on Wednesdays until sometime in October.
They are hoping that the community will want them back next year and would start up again sometime towards the end of March.
---