The Hancock-Henderson Quill, Inc.

---
Courtney Writes "The Fred Gibb Legacy"
by Dessa Rodeffer, Quill Publishers
Eighteen-year-old Courtney Fox of Stronghurst did interviews locally on a 15 page booklet she entitled "The Legacy of Fred Gibb," but she realizes now Gibb's legacy touches people from sea to shining sea.
"As a kid, I felt in Stronghurst, nothing happens here, but it has opened my eyes to the history that lies in small towns if you take time to dig it up."
Courtney, who lives in Stronghurst with her brother Cory, 20, and parents Larry and Darlene (Dehner) Fox needed a subject to write about for Honors English III and Honors US History classes at West Central. It needed to be of historical significance to Henderson County and she wanted a family connection.
She chose the Fred Gibb car show because it was the one thing that she and her brother enjoyed doing together with their father each year.
When the Fred Gibb car show started 8 years ago, Courtney wasn't old enough to take part, but her dad always took them to look at the old vehicles and talk about the changes.
Their dad had a nice 1976 Chevrolet Silverado pickup which he bought before he was married.
"Mom and dad always entered it in car shows until we kids came along and they wanted to focus more on family," Courtney said.
"He would look at shows as a spectator but adding a lot of parts to show a car or truck can be a money drainer."
Courtney said her dad got back into showing their truck after her brother Cory showed interest. When Courtney finished her Freshman year she took over showing the truck with dad by her side. She took Best In Class for her third year.
"The truth of it," she explained. "I like seeing the old cars and dad explaining the differences and getting his overview of the show. My favorite part, is just sharing the day with him. I think the show is a big generation gap healer and that is something you don't see every day.
Courtney was surprised to find out so much background information about the Gibb Memorial Car show. Kenny Brown set up a meeting with Herb Fox, Bob Lionberger and himself after she had called him wanting an interview. Courtney came equipped with questions, and notepaper and a tape recorder.
"At times they were all talking at once, there was so much to tell."
I found out that Herb Fox who raced "Little Hoss" was raised in Stronghurst and that Fred Gibb and wife Helen Hartquist Gibb was born and raised in Media and helped his folks farm. He graduated from Media High School in 1937. He attended college and then returned to farm in the Media-Terre Haute area but moved to La Harpe where he lived the majority of his life running the Fred Gibb Chevrolet dealership from 1948-1984.
Courtney also interviewed Helen Gibb and one of his daughter's (Nancy) who teaches at West Central High School. She included facts she gained from websites and had five pages of credits at the end.
On the Saturday of the show, she was offered $20 by a couple of men for a copy of her book which surprised her.
"I only made enough for my teachers and each of the people I interviewed and for myself, but I can make more if someone wants to buy one."
"I never knew how in depth the work was behind the scenes nor the history of it," Courtney said after her interviews. "I really respect the people behind the scenes."
Besides showing pickups, Courtney trains, rides and shows horses, does photography, works at the nursing home, is a member of the Stronghurst Hustlers and the Trailriders 4-H Club. She is a member of the National Honor Society, Scholastic Bowl, FFA, Spanish Club, 4-H Youth Council, BACK (Burlington Area Catholic Kids), and plans a busy schedule as a West Central Senior. She plans on a major in Digital Graphic Design and Photography this fall as well as horse judging, and creative writing. She is raising and training APHA (American Paint Horse Association) and would like to giving riding lessons to kids and train horses, she says. Her family also raises ABC (American Border Collie) pups.
Those wanting a copy of her book, "The Legacy of Fred Gibb" can reach her at 309-924-1303.
Courtney was to enter the write-up in a "Historical Day" contest but she didn't want to edit it to the required size. "Everything was too important to the story," she said.
"Now that it is finished and I've presented them, I will try to edit it and enter it for the contest this winter, she said. It could help raise some scholarship money for college next year."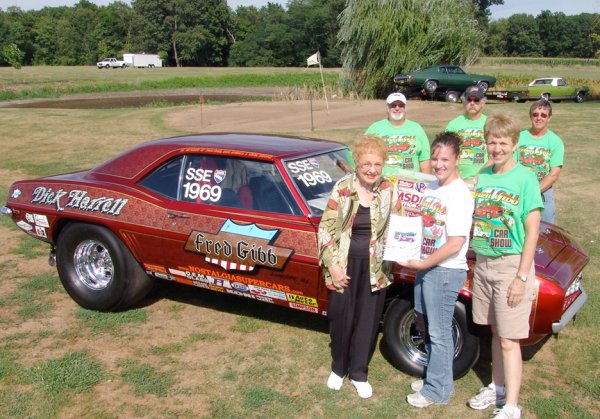 Courtney Fox, 18, Stronghurst poses at the Gibb car show with the Gibb 1969 #1 ZL1 Camaro, the car that made history in the Pro Stock Championship World Points race in 1971 in Califonia. Courtney obtained autographs from organizers Ken Brown (back right) and Jerry Burford (center), Bob Lionberger (back left), and Mrs. Helen Gibb (left) and their younger daughter Nancy Gibb (right front). She interviewed most of those pictured for her pamplet: The Fred Gibb Legacy. She also gained information off the web, from The Quill newspapers, and from Herb Fox of La Harpe who had raced Gibb cars prior to Jim Hayter's year of racing in 1971.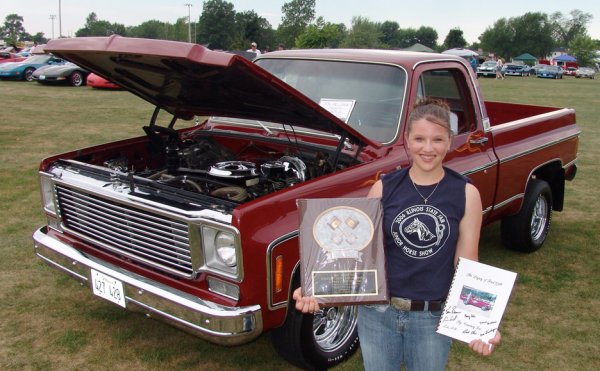 Courtney Fox with her "Best Of Class" plaque she won for the 3rd year in the high school truck division of the Gibb Memorial show this month.
---