The Hancock-Henderson Quill, Inc.

---
A Mission Trip Worth Taking
New Orleans Mission Trip
by: Holly Willdrick, Quill Reporter
A group of 7 teenage girls and 2 adults traveled to New Orleans for a week to help with clean up efforts.
The Union church had been receiving packets from "Group Workcamp Foundation (GWF)" and decided that they would try to get a group together. They reached out to the other churches in the community and were able to get a small group together.
Kelsey Wisslead from the Christian Church, Hannah Brown, Lisa Irish, Morgan Pollock, Gretchen Blythe, and Alyssa Swanson from the Union Church, and Eric Johnson from the Terre Haute Methodist Church along with their chaperons Cindy Pollock and Gene Ray left for New Orleans on July 23.
But before they reached this point they had several things to take care of. For the girls they had to have up to date vaccinations and start a malaria medication two days before the trip and continue for thirty days.
Monica Crim from La Harpe Family Rural Health was gracious enough to donate this medication to all the travelers. The chaperons, in addition to the medication, also had to go through a background check.
Cindy Pollock who was a little unsure about going was "hoping something would show up" so she could get out of it. Guess what, she was clean and heading to New Orleans.
She later said that "It was the best experience of my life". It cost $500.00 for each person to go on this trip. They were asked to pay a $50.00 deposit that must be paid at the time they sign up and then they raised the rest.
They also had received a list of tools and other items that they would have to bring with them. Once again the community came through and donated most of everything on the list. The church did have to buy some items, but will be able to use them on future mission trips.
Of course, there was also the small issue of how they were going to get there. Gene Ray was able to purchase a "vampus" as it became known as. (This would be a van, camper and bus all in one.) So they were off.
For five days those girls worked harder then they ever thought possible. They were required to wear hazmat suits due to the conditions they would be working in. "You would work for about 30 minutes and would have to stop and pour out your suits. You never heard any complaints from the girls about it though."
They didn't stay in the same group, but were divided up into groups with other churches from all over. Some of the girls worked in a house that not only had water but also 3 feet of oil in it. They had to totally empty these homes, down to the studs.
Some of the things the girls shared were stories of an in ground swimming pool that didn't even belong in that neighborhood, refrigerators that had year old or older food still in them, and several "God Sightings". God Sightings are things you find or see people do that make you think about God.
One group told of an "I love Jesus" mug that was sitting in a cabinet that looked as if it hadn't been touched. There wasn't even water standing it, which was the case with most of the dishes still found in cabinets. Another told of how a mother had placed crosses above the beds in the home and everything, but those crosses had been washed off the walls.
Gene's group even found a duck that had made a nest in the corner of a home. They cut around it and before they left she had 9 little ones. Each night when they would return to the school they were staying in they shared these with the other groups.
They went on to share the room they stayed in at the school was lined with burlap cots that touched and you had to put all of your belongings under the cot. They were so tired at the end of the day though that it didn't matter what they were sleeping on.
Cindy Pollock was sent to work at a private school where she cleaned desks and inventoried books to help get it ready in time for the first day of school. The school only had a foot of water in it compared to the 20 feet of water that was in the houses the rest of the group worked in. "I didn't do half of the work that the rest of them did. These girls did more work than most men could do."
When it was time to come home on July 28 they had completed 14 houses and one school. However, there were still many more to be done. All of the homes have to be done by August 29 or they will lose what is left of their possessions and will receive no money.
At the farewell gathering the group was asked to exchange the tires that they had been told to bring decorated with their churches info on it. The theme for this years mission trip was "Full Service - A Jesus At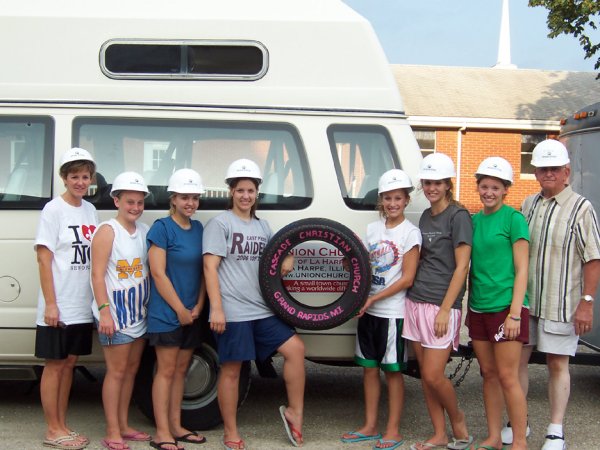 A trip they will remember came from several area youth helping others who lost homes in New Orleans from Hurricane Katrina last year. At far left is Cindy Pollock and far right is Gene Ray (chaperones and driver) with girls who exchanged a tire with a mission group from Cascade Christian Church in Grand Rapids, Michigan.
---