The Hancock-Henderson Quill, Inc.

---
Looking for the Oquawka post office? ...try the bar
By Dessa Rodeffer, Quill Publisher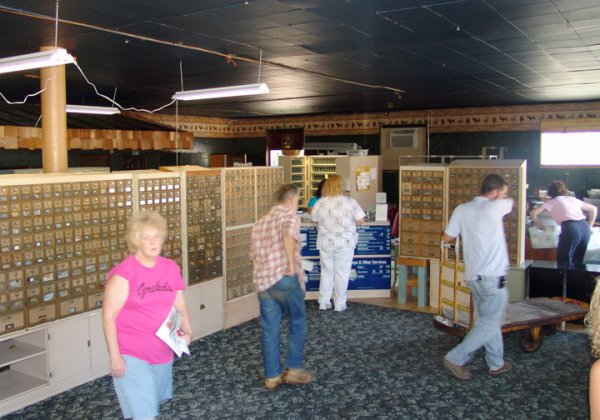 If you are looking for the Oquawka Post Office, you might check "R-PLACE" formerly a local bar in Oquawka.
Where normally a U.S. flag would be displayed hangs a "BUSCH" sign. A "U.S. Postal Service" sign hung above the entrance will let you know you are in the right place if you came to mail a letter, but not in the right place if you came to order a beer.
"People have been coming in and asking if they could have a beer with their book of stamps," laughs Postmaster Rhonda Hitchcock. "Or they'll say, "I've never seen so many people in a bar in broad daylight. "
The former tavern best known as "Top Hat" is located a block east of the post office on the opposite side (south side) of Schuyler Street.
The first day of the move was last Tuesday and it was extremely difficult because there was no lighting in the bar, and it was hard to read the mail. An office holder at the courthouse said mail had gotten into wrong boxes.
"It's been a nightmare getting here (to the remodeling stage)" Rhonda said, "but we don't care, it is for the greater good. I am willing to go to a garage to get improvements."
Overtime pay for postal workers to move over the weekend wasn't an option, so the move was made on Tuesday, August 1st.
"On Monday, we thought we would be moving next door into Hamilton's Grocery store," Hitchcock said, The business had closed over a year ago due to an electrical fire.
But, Monday afternoon, it was found that the electrical problems had not been fixed so it was declared an unsafe venture. The word was put out for the need of a building and they came up with the empty bar, "R-Place" which is up for sale.
The building, although poorly lit, is big and roomy, and easily holds all 750 plus boxes for Oquawka and gives them space they wish was permanent.
"The old building is so small we had to walk single file through the mail," workers explained.
The improvements for the Oquawka Post Office have been a long time coming. In fact papers show that in the early 70s there was plans to build a new post office and funding.
This repeated several times. In 1983 paper work was started and in 1987 shows an acquisition for land. In February 1988 Congress terminated it again.
1999 was the last time they were told they could build a new post office.... but Congress terminated it again due to no funding.
Hitchcock, who has worked for the U.S. Post Office for twenty-three years, said you just don't want to believe it is going to happen until you see it in process. "We were afraid to get our hopes up. We had gotten the call March 2006 from the Field Maintenance out of Peoria.
They have been absolutely wonderful. They are giving us central air, and helped us so we will have a vestibule to put mail in at night that the District is going to pay for."
The Peoria Maintenance crew helped with the move, and lights, and fitting in an air conditioner at their temporary building. They have gone beyond what was asked of them, Hitchcock said.
The Oquawka Post Office ranks at the top of a Level 15 and generates the a lot of revenue in Henderson County doing business for the county seat.
It is not unusual to find many smaller post offices with new facilities, some who may have as few as 5 customers a day. But Oquawka seems to have fallen through the cracks.
Hitchcock became Oquawka Postmaster in 2003.
She was able to get a small hot water heater approved so they could wash their hands in hot water, after some persistence.
In May of 2004 during an annual Safety Survey, the Supervisor of Safety spent half a day and found 30 violations and told her he would get someone to look into it.
The head of Administrative Services in Chicago came down and spent three hours and was "horrified that we were working in this building."
He had blueprints drawn up for improvements and got everything approved.
The next thing Hitchcock knew was his department was eliminated and he had been sent as a postmaster someplace.
Ever since then, Hitchcock said she kept calling regularly asking "Where are our blueprints?"
Finally, March of this year, a guy from Field Maintenance Office found the paperwork on someone's desk and they told her she would be getting the remodeling.
She was still afraid to let herself believe it, but it seems persistence pays off.
Asbestos removal, a new vestibule, central air, and many other things needed for remodeling will make the price tag high, but employees are excited about the improvements that are being made in the present facility.
However, some are wondering if it wouldn't be better to trade asbestos removal and remodeling funds for a facility with more floor space, and wouldn't a new facility make more economic sense?
While the remodeling is going on, a piece of land sets ready to build on which would allow expansion of the Oquawka Post Office. But postal workers, for now, are excited about bringing the old office up to standards, and they are keeping busy doing whatever they can to help postal patrons get their mail over the six weeks of remodeling.
Since they cannot keep the lobby unlocked, and are only open 7-4, they are offering box holders to use sign-up sheets to have others pick up their mail, or to have it dropped off at another person's rural address.
"We'll do whatever we can to help the customer," Hitchcock said. "It is the stages we go through for change, and we'll have to bear with it."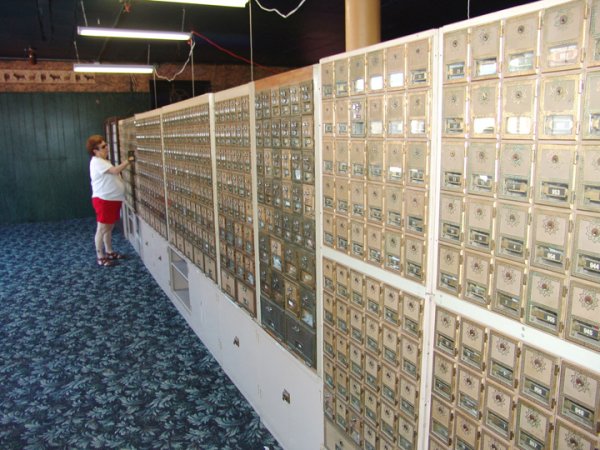 An Oquawka postal customer finds her mail box.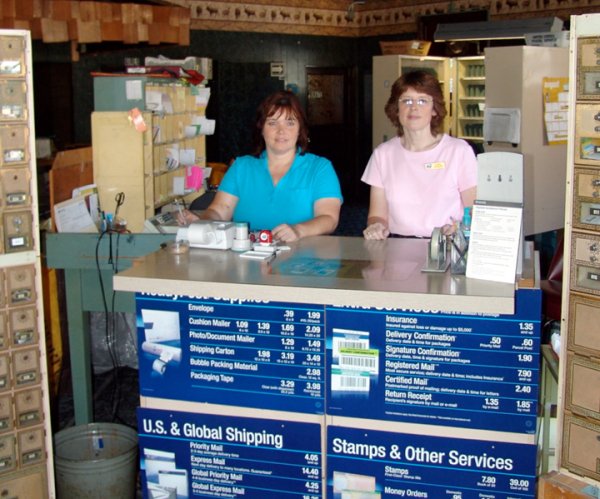 From left Sharon Olson, Clerk and Postmaster Rhonda Hitchcock are ready to serve you with your postal needs. Clerk Penny Albright, and Carriers Judy Bielser, and Troy Raymond work at the office too, and are not pictured.
---