The Hancock-Henderson Quill, Inc.

---
La Harpe Angler Darrin Olin Earns 1st Place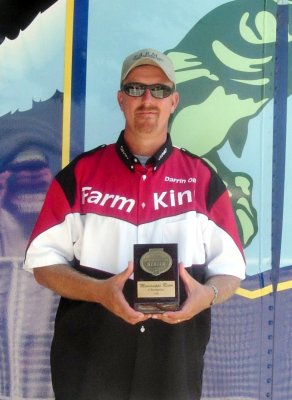 Despite the extreme pressure placed on the fish due to the 2 major tournaments in the area in the last few weeks, Darrin Olin of La Harpe showed what a talented angler he is as he claimed first place in the ESPN Bassmaster Series held at Burlington, IA.
Darrin claimed the 1st place spot and the $2120 check today with a 14 lbs 1 oz limit. All his fish were caught on sweet beavers and Berkley Gulp in 6-10 ft of water.
Darrin has had a string of bad luck with several days of boat trouble but it is hoped the dark clouds have parted for him with this win.
FARM KING, Citgo, Family Ag Risk Management, LLC and First State Bank of Western Illinois all sponsor Darrin.
The weather was very nice for the day. It began comfortable and cloudy and cleared throughout the day and it warmed up quickly once the sun came out. The fishing, however, was not as hot as one would hope since the area had been pounded with two big tournaments. It certainly had affected the fish but several anglers showed they could overcome this.
It was reported that the City of Burlington, Iowa did a good job of making things flow smoothly and BASS once again put on a well-run tournament. They made all the anglers feel appreciated, and it is hoped BASS is back in the area next year.
Other winners were:
Rock Falls, IL angler Chase Gillette earned $1350 in cash and prizes with his 2nd place finish with his limit weighing 12lbs 1oz. His fish were caught flipping pad in one small area all day. Chase is sponsored by Team Supreme Tackle.
Randy Marchand from East Peoria, IL struggled all day to find his limit weighing 11lbs 13oz and had to move to several areas to fill the well. At the end of the day, however, it was good enough to gain him a 3rd place finish and $689 in cash and prizes.
Non-Boater Results
1st place went to Dubuque angler Tim Wolfe with a combined weight of 18lbs 12oz. His sack also included big bass for the non-boater category which brought his total winnings to $1123. The fish were caught on jigs, cranks and Berkely Gulp. Wolf reported it was a tough day and they really had to work for their fish but by the end of the day both he and his partner made their limits.
The runner-up spot went to Joy, IL angler Wesley White with a combined total of 16lbs 15oz. This earned him $984 in cash and prizes.
Third place went to Bobby Anspach from Cedar Rapids, IA with 16lbs 2oz combined weight. This was good for $379 in cash and prizes.
---