The Hancock-Henderson Quill, Inc.

---
Business Spotlight - Granny's Candle & Soap Factory
By Holly Willdrick, Quill Reporter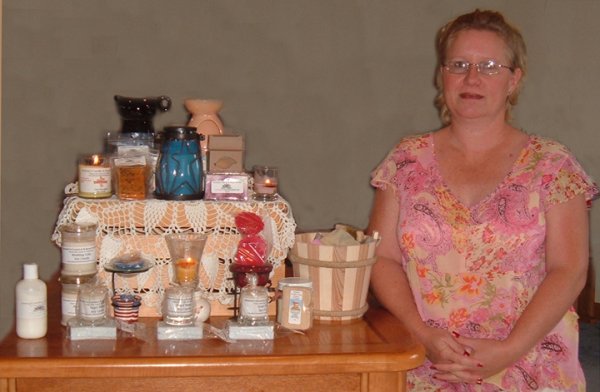 Teresa Link started Granny's Candle and Soap Factory 4 years ago as a hobby. She was very disappointed in candles she had been buying. The price she was paying just didn't match the quality of the candle she was getting.
She had some extra time and checked into making her own candles and fell in love with it. She made so many candles that she sent some to work with her mother to give away. They loved them and her Mom returned with over $600.00 in orders!
Since then she has expanded her product line to skin care as well as many different types of candles. From votives to hand dipped bears, in an array of scents, Teresa offers it all. The possibilities for scents is endless, and if you don't see a favorite scent on her list, just ask her and she can probably make it.
She has had requests from the basic banana to bacon and camp fire smoke. "Blueberry Muffin is probably the most popular, but different scents do better during different times of the year."
All of Granny's candles are poured out of soy, known for its clean burn. By making only soy candles they are proud supporters of the agricultural community. The finest waxes are used and wicks are lead free to protect you and the environment. Granny's will also fill your containers if you don't find one of theirs you like.
The skin care line is inexpensive and far from complicated. Only the finest vegetable oils are used to produce the soaps, lotions, and bath and body products.
The line includes: cleansing, exfoliating, moisturizing, and special needs. Just as with the candles you are able to pick what scent you want in these products.
Each order is "freshly mixed in my very own kitchen to assure the highest quality," she assures. All of the skin care products have been tested and found to be nonirritating and gentle enough for even the most sensitive skin. "My grandson has skin allergies and if he can use my products, almost anyone can," Teresa said.
Along with the daily skin care products, she has lotions, sugar or salt scrubs, body butter, soap, facial mask, lip gloss, and more.
Not sure what to get or if you will like a scent...host a Candle and Soap show and see it all. Plus it's a way to earn some free products for yourself. Granny's is also available for fund raisers.
She offers special discounted prices to help organizations with their fund raising efforts (50% of the profit,) plus they provide all the information and orders forms you need. So all you have to do is sell and deliver and they will do the rest.
Teresa does get some help from her family. Her husband is Tom Link and they have four children: Heather, Cody, Jennifer, and Paula, and are expecting a baby in January. She also has three grandchildren: Thomas, Gwen, and Bobby.
Granny's Candles and Soaps can be custom ordered by calling 217-659-3481, visiting the website at www.grannyscandleandsoapfactory.com, or by stopping by My Sister's Place in La Harpe.
"At Granny's we "pour" our heart into each candle and soap created.....to make your life more beautiful, one scent at a time."
---