The Hancock-Henderson Quill, Inc.

---
Business Spotlight - Brown's Oakridge Zoo
By Holly Willdrick, Quill Reporter
"Animals Helping People"
It all started in 1990 with just a pot bellied pig and a few whitetail deer. The Brown's took their love for animals and turned their home into a place where animals could live a safe, healthy, stress free life.
They are family-owned and operated outside Smithfield, on the other side of Bushnell, and are dedicated to the preservation of animals.
Over the years they have taken in over 14 lion and tiger cubs to raise that have been abandoned in captivity. They also have some animals that have been born at the zoo and have had a lot of human contact. You don't just get to look at the animals, you get to have hands on contact with them.
You will have the opportunity to hold or feed selected animals at the zoo. What an experience to get to hold a lion, tiger, or bear cub.
You will have the opportunity to see cougars, bobcats, elk, sika deer, fallow deer, llamas, and much more.
The Browns take their zoo beyond Smithfield by staying very active in the community. They have taken their animals to nursing homes, Head Start, handicapped facilities, as well as schools and summer recreation programs.
"We strive to bring the educational and therapeutic experience to those who are not always able to come and see us." The zoo is a great place for school field trips. The students will be able to have an educational experience and have a fun time as well. They will learn about where the animals come from, what they eat, and how they reproduce.
Soon you will be able to "get away from the hustle and bustle" of life and come stay at the zoo. There will be a cabin located just up the road from the zoo. The cabin will be available year round for rental and you can help with some of the everyday chores at the zoo or just relax and take it all in.
The Browns are pioneering a new program called the "Animals Helping People" program. This program allows non-profit, or financially restricted organizations to come and visit the zoo, or for the zoo to come and visit them.
You can sponsor an individual or organization and give them a moment with exotic animals that they would not be able to enjoy without your help. Your donation will also get you two admission passes for you and a guest.
These are just a few of the things that go on at Brown's Oakridge Zoo. There is so much more to go and see.
Do you know what these animals are..Coati Mundi, Tennessee Fainting Goats, Potigonia Cavy, or a Dama Wallaby. Go for a visit and find out.
For hours and directions visit the website at www.brownsoakridgezoo.com or call (309) 783-2112.
They are located at 17732 North Dairy Farm Road, Smithfield, IL 61477, east of Macomb off Route 95.
The Brown's Oakridge Zoo was featured in the Chicago Tribune as the only family facility in Illinois with the proper state licensing to receive the baby tiger below.
Who knew that this little place with big fun was so close to home.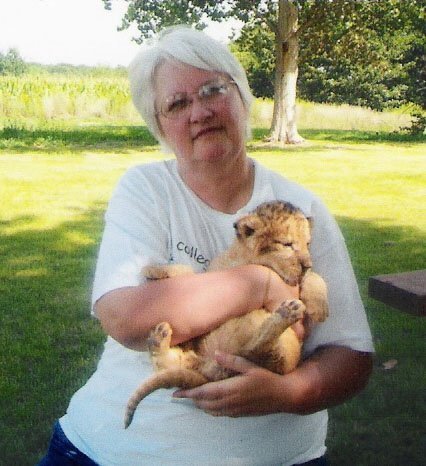 Peggy Villwock of La Harpe plays with 3-week-old lion cub "Leo." Her daughter Tiffany works at the zoo.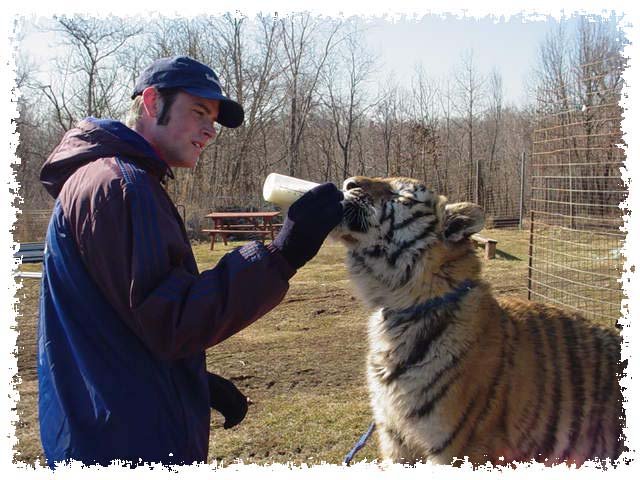 An employee feeds a tiger at the Oakridge Zoo in Smithfield.
---