The Hancock-Henderson Quill, Inc.

---
Generous Support Keeps Nursing Home Doors Open
La Harpe Davier Health Care Center Will Remain Open
by Holly Willdrick/The Quill Staff
After the 3:00 p.m. deadline for pledges past Monday the La Harpe Davier Health Care Center had received just shy of the $150,000 they were in need of to keep their facility open after putting out a plea to the community last week.
According to board member and acting Administrator John Henry Rodeffer, the La Harpe Davier board met last night and all members decided that they could make this work. "The doors will remain open," he said. "The money that was pledged will help us pay vendors and the mortgage payments until the state can come through with a payment. At this time, however, we are unsure as to when that will be," he said. The center employees 50 full and part time employees and is home to around 35 residents. When the good word was given to the staff Tuesday that the facility would stay open, there was a lot of excitement. Employees lined up in their cars behind a La Harpe fire truck with the sirens and lights going to let the community know that they had met their goal and would remain open.
Many commented, "This community is a wonderful example of what can happen when you pull together and work together."
This is not the first time that the La Harpe community has come together to help La Harpe Davier stay open.
In 1966, when it was the Mary Davier Hospital, board members faced the need to modernize the hospital or close its doors, and the community stepped in to help.
They embraced the challenge and raised $54,000. On Christmas Day, patients were admitted to the new north wing. In 1974, the plans to add the extended care facility were launched. Once again, La Harpe Davier reached out to the community and they responded by pledging $415,000 in just a few short months. They were able to begin construction in May of 1975, and an Open House was held in January 1978.
Today, board members are hoping residents will keep in contact with Illinois legislators during this election year, and voice their concern over the late Medicaid payments to nursing homes threatening closures across the state.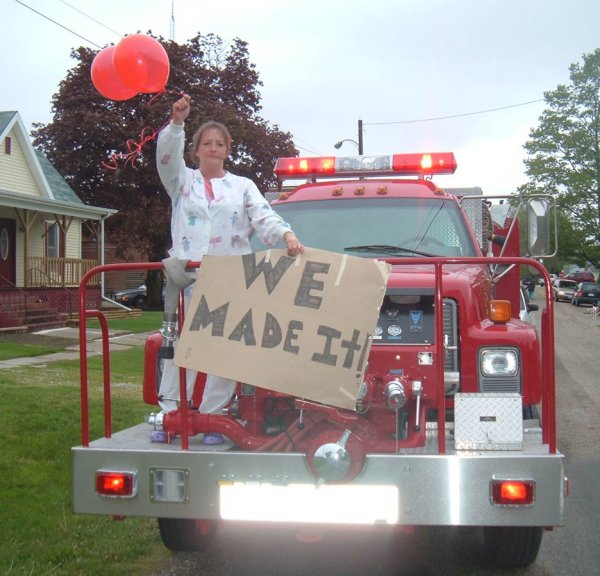 Tuesday around noon, a caravan of excited but tired group of employees drove through La Harpe led by a La Harpe fire truck. Flashing lights announced to the community: "WE MADE IT!" They surpassed their goal! Activity Director Jodi Hillier (above) said, "It was nice to see people come out of their businesses and wave as we went by. I am so excited, and relieved."
"Staff, board members, and residents were overwhelmed with the generosity, prayers, and the support from the community and many around the area," said Marsha Stiller, office secretary and board member.
One of the staff wanted to commend the board. "They are all working so hard here with us, and they are doing a wonderful job," she said.
The eight La Harpe Davier board members are: John Henry Rodeffer (acting as Administrator), Marsha Stiller and Pat Painter (doing the secretarial work), Eric Little, Carl Lee, Rod Myers, Bill Crabill, and Jeff Howd.
---