The Hancock-Henderson Quill, Inc.

---
Business Spotlight - La Harpe's Sunshine Car Wash
by- Gloria Snyder/The Quill Staff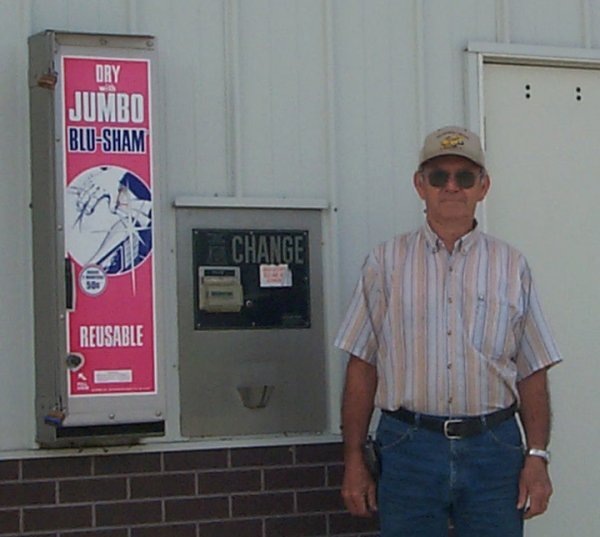 In January l998 the Sunshine Car Wash had it's grand opening and has served La Harpe and surrounding areas for the past 8 years, offering two bays, one with a pressure wand, the other for an automatic car wash.
Each bay is fully equipped for wash, rinse, spotless rinse and waxing.
The idea for a car wash came about because Bill McKeown's son, Robert, had always wanted a family owned business. So, they decided on the car wash.
Sunshine Car Wash is owned by three people: Bill McKeown, son Robert McKeown, and Robert's father-in-law, Dr. Larry Loop. It took one year from the purchase of the land until the Grand Opening of the car wash.
Originally, the land and the cement block building was owned by Jack Sharpe and Dr. Dively who used the old building as a horse barn.
Later the building was owned by the Howd family, and then by Bill Bennett.
Bill McKeown purchased the land with the building on it from Mr. Bennett in l997.
Before any building could be built, the land needed to be surveyed, state law requirements had to be met, a decision made on the size of the car wash, and the old building had to be torn down.
McKeown worked with Bill Toyne of Muscatine, IA, who surveyed the land, and with his partners in this capacity
Installing all of the equipment in the car wash, which is a Morton Building, was Ralph Peters of Van Horn, Iowa, who worked in cooperation with Bill Toyne. Concrete work was done by Hillis Palmer and all the electrical and plumbing was done by Alfred and Rex Huston of "Town and Country" plumbing and electrical.
Bill stated that the car wash is doing well and he appreciates the patronage of the folks who make use of it and show respect for the property. He also appreciates any helpful comments.
"It takes time to keep things running efficiently and to keep things clean." he said.
"But I enjoy owning the Sunshine Car Wash and I appreciate having Jerry Quigle of La Harpe who takes good care of it, if I am away."
---