The Hancock-Henderson Quill, Inc.

---
Open House Shows Off New Dental Equipment
Melinda Whiteman, Administrator of the Henderson County Rural Health Center of Qquawka, was showing her enthusiasm at the Stronghurst Dental Clinic's Open House Monday.
Whiteman had written a grant last September, which they received in October from the Illinois Department of Public Health for $75,000 for improvements and expansion in their Stronghurst dental facility at 101 South Division Street.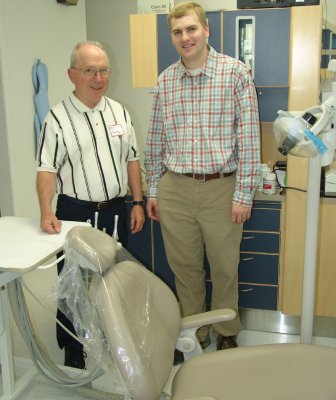 Many people from the community attended to meet the staff, see the new facility and meet the new young dentist that will be coming to town so Dr. Smalley can go back into retirement.... again.
State Representative Rich Myers was being toured through the facility and a wonderful buffet luncheon was spread out in the lobby area for a lunch to all who attended.
The expansion included new chairs, tables, shelving and sinks that divided the room to give more privacy, required by law and a third station was created out of a break-room to offer dental cleaning. A new office was created out of an old one, and new carpet and painting really gave the feel of a larger facility.
Dr. Jim Smalley came out of retirement in October 2002 from his Pediatric Dental practice in Moline to work part time in the rural setting of Stronghurst, which he loved.
The best part, of course, was "The Broadway Cafe," he said, "and the farmers." He got up in the wee hours of the morning in order to make it to the opening of the Cafe and talk farm talk. He was amazed about the improvements from his growing up days in the 30s when a one-row planter was a big deal.
The farmers even had him riding in a tractor one noon hour so he could get the feel of a 6 row planter.
"Unbelievable," he said, "they had it planted in 20 minutes!"
Part of being a dentist is visiting with your patients, and Dr. Smalley (above left) has the knack for that. His wife recently retired as an RN and the couple purchased a home (across from a farm) in the country near the Sterling-Rock Falls area.
On May 21st, Ben Cope will graduate and become a doctor in dentistry and will be at the Stronghurst Clinic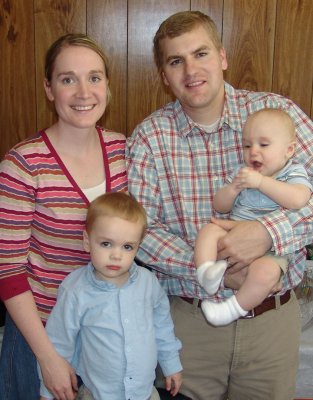 He and his wife Jodi are from small farming communities in Utah and said they will fit right in here.
They have moved into a rental home in Burlington, Iowa with their two small sons, Reid, age 2 1/2, and Oliver, 7 months old.
Ben says he loves to fish and hunt and go 4-wheeling and is anxious to be shown where some good fishing is on the Mississippi River.
---