The Hancock-Henderson Quill, Inc.

---
Cub Scouts Visit Quill
Scouts Troop #63 of Stronghurst are visiting "The Quill" during Spring Break from West Central Elementary 1st and 2nd grade classes.
The visitation is part of their Cub Scout media requirement to earn their Tiger Cub patch to advance to Wolf.
The boys were shown how news comes into the paper, what kind of things they find in the newspaper, how to buy a paper, and how it is put together. Each boy received a front page newspaper that was created all about them and included their 1st and 2nd grade school teachers along the bottom, as a keepsake.
Cub Scouts from left are Jacob Dance, Grant Roth, Layton Tallman, and Braeden Reed with Jennifer Dance.
Jennifer takes the papers each Wednesday to Astoria to have it printed and then she delivers it to post offices in Blandinsville, La Harpe, Dallas City in Hancock County, and in to post offices in Henderson County as well as Burlington, Iowa to insure the fastest delivery possible.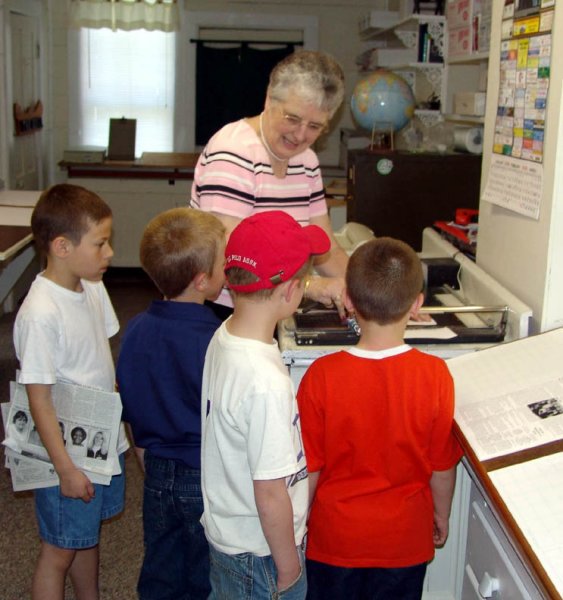 Quill Managing Editor Shirley Linder explains the process of taking news from copy to a newspaper article ready to print. The scouts, fascinated with the paper cutter, wanted to see how it worked.
---