The Hancock-Henderson Quill, Inc.

---
Business Spotlight - Squier Auto Sales & Salvage
-by Holly Palmer Willdrick, Quill Reporter and Dessa Rodeffer, Publisher/Owner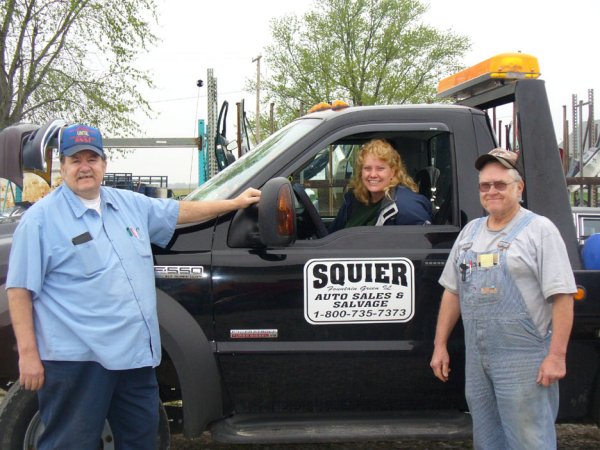 For twenty-five years, Squier Auto Sales & Salvage has been in business in the little town of Fountain Green south of La Harpe, providing car and truck parts around the world.
The business is co-owned and run by brothers, Jerry and John Squier. Jerry was a frequent customer of the previous owner Kermit Bouseman, running Squier's Auto Body in Carthage at the time.
When Bouseman retired and put his business up for sell, Jerry purchased the business, and brother John became a partner a few years later. Their father Arthur C. Squier, influenced their interest in working with vehicles, a mechanic working in heavy equipment.
"Dad ran his heavy equipment repair business right behind my auto body business," Jerry said. "I named one of my sons after him and he also works in our business."
John's daughter Elizabeth Squier also helps in the business, driving a 2005 F550 two-car hauler truck. She drives the area between St. Louis to Chicago, sometimes farther, picking up salvaged vehicles.
"She hauls "em back and we "part "em out,'" Jerry said.
"We organize them by starters, alternators, transmissions, headlights, and so on. We can't keep parts long enough to shelve some of it," Jerry said.
"Fords, Chevys, and Chrysler stuff goes fast.... "95-2005 sell more rapidly. There's a lot of poor people in this world. They might be driving an "88 Buick back and forth to work and just want a part to keep it going."
He says shipping can be costly.
"We had a little guy from China who was visiting friends who wanted me to ship parts to China, but it was going to cost him too much.
"In Ontario, Canada, a man called to order a part for his old 1957 Chevy and wanted a $20 part that was going to cost $300 to ship," due to crossing the border.
"In Alaska, however, they are use to paying higher prices for everything," Jerry said.
"A man called to purchase a $75 part he couldn't find anywhere else and he paid me $400 to have it shipped to Anchorage."
"We ship by truck line, UPS, some by bus, whatever they are willing to pay for. Shipping a whole front end is 800-1,000 lbs. and could cost around $800 by truck. The train is too high."
Jerry said, "Ever since we got modern, everything is on the computer. We are hooked up with the world wide salvage yard.eaten. We can get any part you want. If you want a shoe string for your rubber band, we can get it!" he laughed.
The Squiers have had some bad luck with fires and found out a $300 fire extinguisher can put out a $600,000 fire and they are worth their cost.
"We went broke three times after fires," Jerry said.
In Fountain Green their parts building burnt down losing $250-$300,000 worth of parts when a fork lift was running next to a stove and caught fire. A second fire burnt the parts building and their house as well in 1990 when kids were playing with matches. They moved into La Harpe.
This week they had a close call but the fire extinguisher, he use to think was too expensive, saved him.
"I'm a survivor!" Jerry laughed, And his good sense of humor keeps him going.
Although they specialize in supplying people with late model used car parts, he also enjoyed selling his 1929 Model-T Ford to a fellow in Biggsville, John Harrison.
"It was a "rust bucket" and he rebuilt it to look like a brand new truck, then he sold it," Jerry said.
Ten full and part-time employees help Jerry and John work 12 hour days 6 days a week meeting the needs of customers all over the world as well as many dealerships, especially Chevy and Ford.
They are open Monday - Friday from 8-5 p.m. and Saturday from 8-Noon.
Jerry says, the most rewarding part of his job is the people. He gets to meet lots of new and interesting people and help them at the same time. He and wife Rosemary live in La Harpe and have 5 children and several grandchildren they enjoy.
John and Elaine live in Carthage and have 3 daughters.
Stop by or give them a call at 217-654-2282. They just might have that part you have been looking for.
---