The Hancock-Henderson Quill, Inc.

---
Louden, Police Academy Graduate
Belleville: When Ben Louden asked his grandfather how much training he received before beginning his first law enforcement job as an Illinois Conservation Officer in the late 1950s, "Grandpa Bob" had a short reply, "They gave me a badge and told me to buy a gun-if I thought I needed one."
How different from the 10 week, 480 hour curriculum Ben recently completed at the Southwestern Illinois College Police Academy to become a Belleville, Illinois police officer.
Each day began at 6 AM with an hour of physical conditioning followed by numerous hours of classroom work on law, police functions, human behavior, patrol, investigations, case studies and more.
Ben also participated in several practical exercises as well as firearms training and law enforcement driving. During the course he completed 10 hours of written tests to include the end of course 3 hour Illinois State Comprehensive Exam required by the Illinois Law Enforcement Training and Standards Board.
Ben began his law enforcement career as a Security Forces Specialist with the Illinois Air National Guard at Scott Air Force Base in January 2000 and was a Distinguished Graduate from the Air Force Security Forces Training School at Lackland AFB, TX. He deployed to Bosnia with his unit in June 2001, and the entire unit was activated to active duty in September 2001. Ben has since earned his officer's commission, completed Air Force Specialized Pilot Training, and serves as a First Lieutenant flying KC-135 tankers with the 126th Aerial Refueling Squadron at Scott AFB.
Attending Ben's Police Academy graduation and dinner held in the Southwestern Illinois College on April 7 were his wife Kelli, parents Larry and Pat Louden of O Fallon, and grandparents Robert and Joyce Louden, of Stronghurst. Chief Gina Hays, Southern Illinois University Chief of Police was the featured speaker and presented Ben and the other 19 graduates with their diplomas. Ben is now completing his 3 months of supervised patrol duty with the Belleville Police Department.
Ben and Kelli, have a 17 month old daughter Haidyn with a sister due in August. They live in Belleville.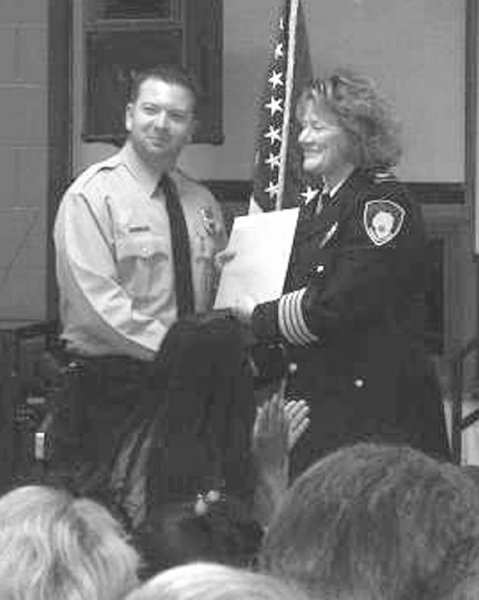 Ben Louden, son of Larry and Pat Louden of of O Fallon, receives his diploma from Belleville Chief Gina Hays at graduation ceremonies of the 97th session of Southwestern Illinois College Police Acadeny in Belleville. Ben is on Patrol Duty with the Belleville Police Department.
---