The Hancock-Henderson Quill, Inc.

---
West Central Girls Sign Letters Of Intent To Play Jr. College Basketball
by Dessa Rodeffer/Quill Publisher
After a successful first year of girls basketball at West Central, three of Coach Jim Cole's West Central seniors signed Letters Of Intent Tuesday with two local Junior colleges: Darci Renken, Kayla Coffey, and Lene Lox.
Darci Renken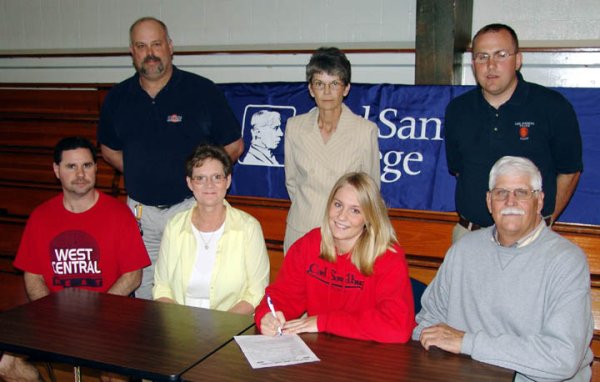 Darci Renken signed a National Letter of Intent with Carl Sandburg Jr. College in Galesburg as her parents, Albert and Dian support the effort that will pay for tuition and books this fall.
West Central Coach Jim Cole, Athletic Director Jay Blender, Principal Karen Rima are with Carl Sandburg Coach Matt Gibson. Coach Gibson said, along with playing basketball, Darci must maintain her grades. "We look for good students academically as well," Gibson said. "After all, that is the reason for attending college."
"We have five Sophomores and ten Freshmen," he said, "and just finished another successful season playing in the National Tournament for the second year." They play a 30 game season plus five at Nationals and won 31 games last year.
Darci was 25-6 under Coach Cole and had a successful season at Southern as well with 20 wins or more each year. She began playing competitively in the 4th grade. Signing the letter of intent, Darci said, was her best individual achievement.
"I am fulfillling the dream of going to college and playing basketball. Competition is high at the Jr. High level," she said.
Darci plans on becoming a physical therapist.
Kayla Coffey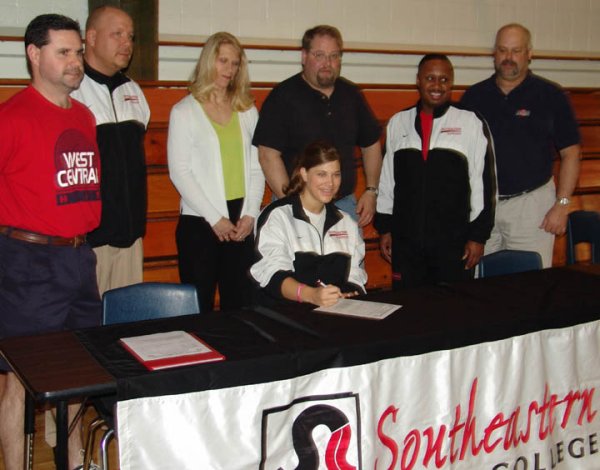 Mr. and Mrs. Merle Coffey of rural Carman watch their daughter Kayla sign a letter of intent to play for Southeastern Community College in Keokuk, Iowa. They are pictured with West Central Coach Jim Cole and her future SCC Head Coach Jim Myers, one of 3 SCC's Assistant Coaches Steve Perkins, and West Central's Athletic Director Jay Blender.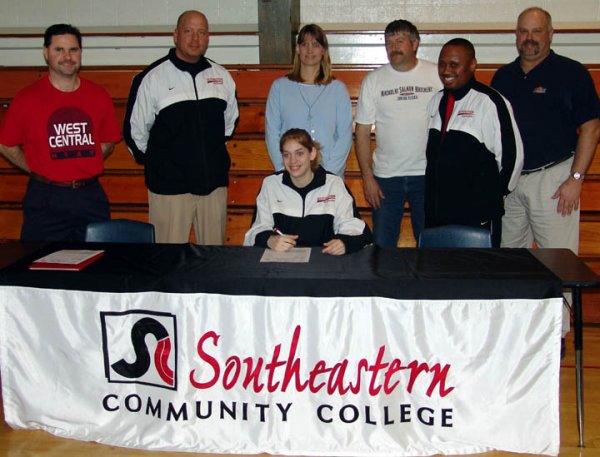 Mr. and Mrs. Jeff Lox watch their daughter Lene sign a Letter of Intent to play for Southeastern College in Keokuk, Iowa. From left is West Central Coach Jim Cole, her future Head Coach Jim Myers, her parents, SCC Assistant Coach Steve Perkins, and WC Athletic Director Jay Blender.
"It is pretty awesome!" said Coach Cole who coached the girls to his first Regional win this year. "It comes down to what these girls have done to get these coaches to notice us. It's a credit to their play."
Lene and Kayla will receive scholarship money for tuition and books. The girls will each have their own room in an apartment that houses the basketball players in Keokuk, and games are played at Cardinal Stretch. SCC girls basketball program is in its second year after the program ended in 1985.
Myers coached girls at Burlington High School the last four years, and had coached at Notre Dame and Cardinal Stretch prior to SCC. He looks forward to a better season this year bringing in six or seven new talented recruits. Lene and Kayla both have played competitive basketball since grade school.
Kayla has her sights on a nursing career and Lene will major in Zoology and plans to be a Veterinarian.
---