The Hancock-Henderson Quill, Inc.

---
Story Teller and Musician Entertain At Opera House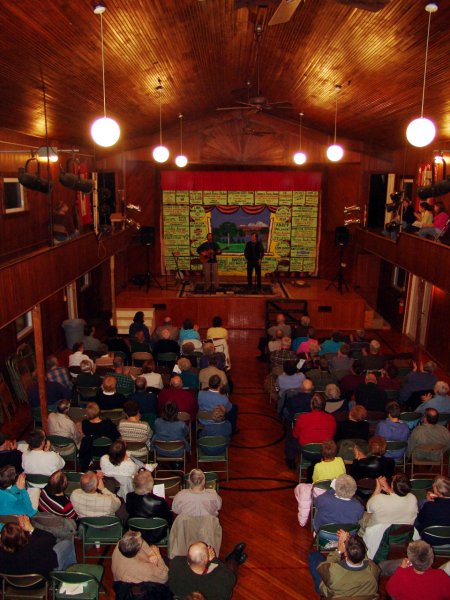 Helping Fundraise For Raritan's Upcoming Sesquicentennial Celebration
The crowd was not packed into Raritan's Opera House like they were for "Grease" or some of the other popular community and school plays held at this historic theater, but a good crowd attended the enjoyable "Prairie Fire" fundraiser planned by Raritan's Sesquicentennial Committee.
The tales, stories and musical numbers arranged to teach history of our land, animals, and our ancestors, fell on a busy Saturday evening.
The Carman Methodist congregation was hosting their annual fish fry at the west side of the county with an estimated two hundred in attendance, and the NCAA men's final four teams were competing on evening television.
The first game was featuring George Mason which fans called the "Cinderella" story and faced the University of Florida Gators. LSU and UCLA were matched up for the second game.
Yet, around 100 residents, sat on metal folding chairs and listened to stories told in Indian like manner. Stories of the Woman Who Lived with Wolves, The Prairie Fire, Jumping Mouse, Cougar on the Roof told by Brian "Fox" Ellis who "travels the world collecting and telling stories specializing in ecological, international, and American folklore."
Ellis encouraged his audience to tell stories they have experienced and heard and pass them on to members of their families.
Barry Cloyd (singer/songwriter) played his guitar and banjo and sang melodies putting Folk, Celtic, Blues and Country into a unique blend of his own. The two have CDs of the work available.
They are known as the Prairie Folklore Theatre and will be open for their summer season at Three Sisters Park in Chillicothe. Phone 309-689-8000 for information.
Funds from Saturday night's event is helping fund the 150th Year celebration of Raritan on July 1-4 where a variety of activities are being planned. To name a few:
July 1st: after morning and afternoon events including a 2 p.m. Sesquicentennial parade, a Ham & Bean meal will be served at the Baptist Church, then the Central Illinois Banjo Players will perform in the Opera House, and a dance will be held at the Village Park.
July 2nd a community Historical Play will be at the Opera House.
July 3rd will be the Raritan Firemen's annual firework display at the Moore brothers farm. July 4th, a chicken and pork chop BBQ will be at St. Patrick's Community Center.
---