The Hancock-Henderson Quill, Inc.

---
Meet Your Neighbor
By Holly Willdrick/The Quill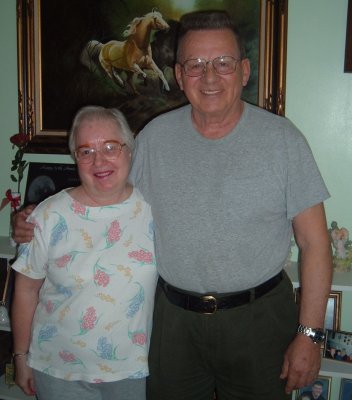 Meet your neighbors, Tom and Elie Koopmans.
The Koopmans came to La Harpe from Hershey, Pennsylvania. Tom worked at the Milton Hershey School, which is a school that "nurtures and educates children in social and financial need to lead fulfilling and productive lives." He worked mostly with the high school kids, but the school took any child age 4-14. He found it very rewarding to work with the children.
Elie worked at the Hershey State Bank in the bookkeeping department. They lived a half mile from the Hershey Chocolate Factory, and said you could smell it when you opened the windows.
When Tom decided to retire they wanted to move back to the Midwest, having previously lived in Oquawka. They had raised their five children who have graced them with 10 grandchildren. So in 1990 they made the move back to La Harpe.
Elie took a position with the La Harpe Senior Center driving the van, which she has since retired from.
Tom works part-time for Housewright Construction, so he can work full time as a volunteer in the community.
Tom and Elie stay very involved in the community.
They are members of the Union Church where Tom is known as the "gum man".
Every Sunday he gives all the children at church a stick of gum and some of the adults too. He also picks up members from the Davier Health Care Center and brings them to church. He hands out gum to the nurses there, as well.
After church, Tom and Elie take some of the widows from church and the community out to eat, where he also leaves the waitress gum.
Tom states that they go through about 35 packs of gum each Sunday.
In addition to taking these women, and anyone else who will join them, out to lunch they sometimes take little trips.
They have gone to Manerd, Iowa to the turtle farm, gone to different towns to see Christmas lights, and even to Hannibal, MO.
Tom has volunteered his time to organize the yearly Ambulance Ham and Bean Suppers.
He also enjoys working outside, as you can tell by his own yard, as well as some in the community. He has planted flowers at the Union Church, Senior Center, and the Library. Elie also enjoys singing and was a member of the choir at church.
Tom and Elie celebrated their 50th Wedding Anniversary this past August. They had met on a blind date.
Elie attended school with Tom's brother's girlfriend who introduced them when Tom was home on leave from the United States Navy. She was a senior at the time.
May this wonderful couple be blessed with 50 more wonderful years together.
---